There's a 'Last Time' For Brad Paisley to Perform on 'Late Night'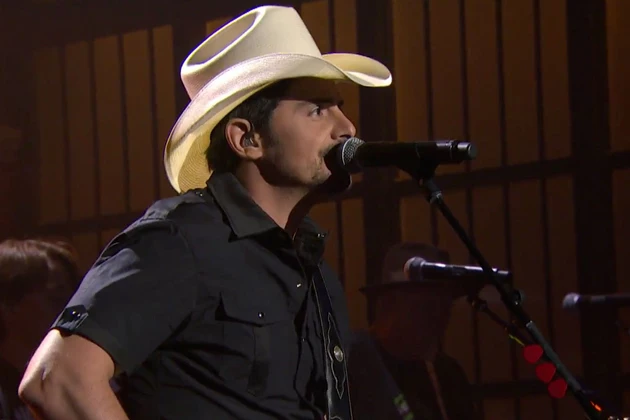 On Wednesday (August 2), country icon Brad Paisley stopped by Late Night With Seth Meyers to remind us all that whether it's bad haircuts, high school loves, or sneaking into bars, there's a "Last Time For Everything."
Subscribe to My 94.7 on
Recalling memories of the first time we all saw that pretty girl at the dance, or played with our first puppy, Paisley's latest hit, "Last Time For Everything," is a solemn reminder that the next time we do something it may be the last time we do it, too. It's easy to dismiss the sentiment as schmaltzy, but at the core of the song, there's a bit of hard truth. (It's not a bitter one though, and sometimes it's good to look back at how far we've come.)
Subscribe to My 94.7 on
Over on Jimmy Kimmel's stage, R LUM R slowed things down. Performing as part of the Mercdes Benz Concert Series, R LUM R gave the audience an excellent performance of his debut single, "Frustrated." Don't let the simple three-piece arrangement fool you though—this is some delightfully complex future-R&B.
Subscribe to My 94.7 on
Marking the television debut of his latest single, "Don't Matter Now," George Ezra jammed out with those in attendance at The Tonight Show with Jimmy Fallon. Like one Rick Astley, Ezra doesn't look like his voice should be as deep as it is, making for an odd juxtaposition, but one which suits his musical stylings wonderfully.
Subscribe to My 94.7 on
Often known for giving up-and-coming artists a break, Stephen Colbert introduced the world to the music of Joe Walsh on The Late Show last night. Keep your eyes on Walsh, who has a deft talent for the guitar, and check out "Life's Been Good." It just might be your next summer jam.
Country Stars Who've Written Songs for Pop Stars:

Source:
There's a 'Last Time' For Brad Paisley to Perform on 'Late Night'