'Supergirl' and 'Arrow' Stars Speak Out on Producer's Sexual Harassment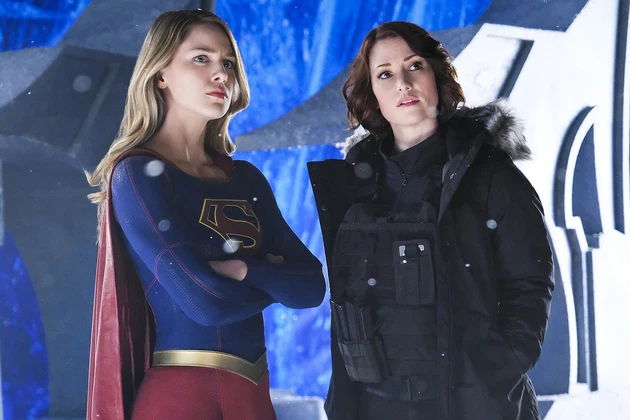 Late Friday saw Supergirl and Flash fans taken aback with word that producer Andrew Kreisberg had his own streak of sexual harassment. That put the stars in a difficult position, but Melissa Benoist herself has now spoken up about "refusing to accept an environment that is anything less than a safe, respectful and collaborative space," as have other Arrow cast.
Kreisberg has since been suspended in his capacity as executive producer, following a Variety report that at least nineteen staffers had complained about the Arrow-verse boss' history of lewd comments and inappropriate touching. It isn't entirely clear what Kreisberg's role might be going forward, but Benoist took it on her super-shoulders to become the first franchise star with indirect comments on the matter:
— Melissa Benoist (@MelissaBenoist) November 13, 2017
Benoist wasn't the only star willing to speak out, however, as Arrow vet Emily Bett Rickards took a sharper line against those who perpetuate rape culture:
— Emily Bett Rickards (@EmilyBett) November 13, 2017
That line about "reverse sexism" seems particularly charged, as Arrow's own executive producer Marc Guggenheim took flack on Twitter for invoking reverse sexism in a response to Conan O'Brien:
Sorry, but NO. Reverse sexism isn't the answer. Painting all men with the Weinstein brush isn't the answer. https://t.co/Gp1QLKwoXN

— Marc Guggenheim (@mguggenheim) November 12, 2017
Other stars like David Ramsey, Chyler Leigh and Caity Lotz also offered platitudes in support of Benoist and Rickards:
Amen & Amen! You @EmilyBett @MelissaBenoist and so many courageous women remain the true heroes of us all!

— David Ramsey (@david_ramsey) November 13, 2017
Love you Sis https://t.co/6nyltFUJrM

— Chyler Leigh (@chy_leigh) November 13, 2017
To the brave women and men who are coming forward to condemn their abusers… I add my voice to the choir of support. You are the ones ushering in change that would allow all of us to work in an environment where we are respected and safe

— Caity Lotz (@caitylotz) November 13, 2017
UPDATE: Stephen Amell released his own video statement, having spoken to the Arrow cast and crew first:
Kreisberg had been serving in a more overall producer capacity to Flash and Supergirl, but we'll see if his suspension has any noticeable effect on the franchise, or if other stars speak out. Stay tuned for the latest in the meantime.
Subscribe to My 94.7 on
Subscribe to My 94.7 on
Subscribe to My 94.7 on
Gallery: 12 Times the 'Arrow'-Verse Overwhelmingly Hinted at Batman

Source:
'Supergirl' and 'Arrow' Stars Speak Out on Producer's Sexual Harassment